Travel season is just around the corner. Gardening season is officially in full swing. What does that mean? It means that a perfect article for us to write this month is one that combines our love of giving advice on eco-travel with our love of all things plants. Are you thinking of traveling this summer (responsibly of course)? Skip the theme parks (there's nothing there that's good for the planet, trust us!) and head somewhere to celebrate plants. We've put together our list of our top ten fantasy forest vacation destinations.
Number Ten: Muir Woods, California
California's beautiful redwood forest above is named after environmentalist John Muir, and you'll definitely feel his peaceful spirit while you're there. You'll also have the benefit of all of the nature of Northern California – plus you'll be close to the quirky fun of San Francisco or the relaxing vibe of Napa. We love this tree destination because you can combine nature with other vacation fun.
Number Nine: The Crooked Forest in Poland
This forest has only been in existence since 1930, and the trees in it are ordinary old pine trees. However, somewhere along the line some ingenious (and uncredited) human found a way to grow the trees with a remarkable curve in them. It's like walking into a Dali painting but with the actual smell of the outdoors included. Plus, Poland! Explore history and eat some great food.
Number Eight: Sequoia National Forest, California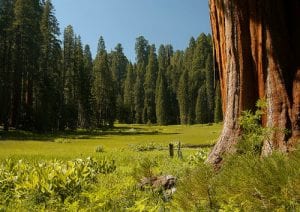 Yes, California is playing double duty on our list, but it does have some amazing trees. Hopefully drought and wildfire won't destroy them! This forest includes General Sherman, the tree with the single largest mass and volume in the world. It's worth the trip just to see that – and stand in awe of the fact that the tree is actually older than the Roman Empire.
Number Seven: The Black Forest, Germany
This is not just on the list because we adore the pastry product named for it. We love this forest for its spookiness. Did you know that it was given its name because the foliage is so dense that for almost all of the day it blocks out the sunlight entirely? True story! There's also a species of earthworm that lives in this forest that's referred to as a "giant earthworm," so there's that, too!
Number Six: Yasuni National Park, Ecuador
Like most of South America's forest region, Yasuni is presently endangered. That's a shame since it's considered to be one of the most biologically diverse spots on earth. It sits at the center of a small zone where amphibian, bird, mammal and vascular plant life reach their maximum levels in the western hemisphere. We'd like to see that- as well as the local tribe.
Number Five: Daintree Rainforest, Australia
Daintree is the single oldest surviving rainforest in the world – and it makes us even more grateful for the eco-conscious Australians. If you'd like to see old and be awed, this is your destination. Plus, hot Aussies!
Number Four: Jiuzhaigou Valley, China
If you're not already sold on the idea of being at the edge of the Tibetan Plateau, then get excited about the primeval forests set against both colorful lakes and snow-peaked mountains. Magic.
Number Three: Babcock State Park, West Virginia
If this seems like a shock to make our top ten list, it shouldn't be. While West Virginia has been in the news mostly for coal mining and pollution of late, never forget that its state motto is "Wild. Wonderful." Its state parks reflect this! You can camp and hike and enjoy the beauty of the Appalachian foliage.
Number Two: Sagano Bamboo Forest, Japan
Close to Kyoto, this great bamboo forest is one of the most amazing ways to experience both the culture and the serenity of Japan (no, not Tokyo!).  It's unlike anything you'll experience elsewhere.
Number One: The Amazon Rain Forest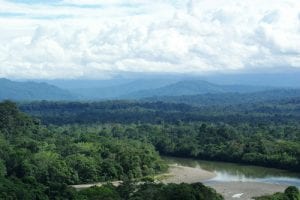 The ever-shrinking but stunningly beautiful Amazon rainforest is tops on our list of fantasy tree vacations. This shouldn't be a surprise! Get there now (with carbon offsets) – over 200,000 acres are burned every day.
Did we miss a forest vacation destination that you really, really feel we should have shared? Tell us about it on the social media channels below.
Facebook | Twitter | Instagram | Tumblr | Pinterest | Google+